Update: Be Wary Of Ordering Imitator Product! No UV Protection and Cheap Materials!

🌡️
Meilen

™ Window Shades

Avoid Sun Damage and Heat With 80% UV Protection

As a parent, my number one job is to protect my children. Installing these window shades on my car helps me protect them.

INSTALL IN SECONDS!Tested with and awarded with a CE testing certification.

Our window shades eliminate 80% UltraViolet rays, eliminating 80% sun damage on your children. The Shades also decreased the heat by 20-40%! 

Do you worry about your child getting too much sun where you can't reach and help? Do you wish your car could enjoy the protection of window tint without the cost?Do you want to save money instead of trying to install those hard to install, bubbled up stick-on tints?

Our window shades will solve all these problems and more!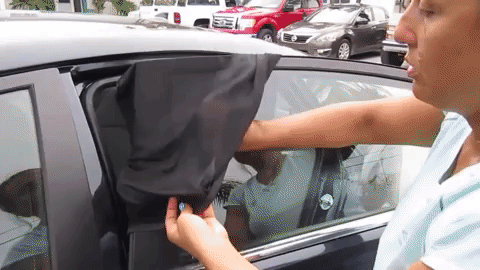 Installation couldn't be easier!
Your children will be protected, and you'll enjoy much cooler temperatures, privacy, and a clean look on your vehicle.
Detailed Information: 
Fits almost all (90%) Cars as it can stretch and can be adjusted.
Insulation Rate has been tested around: 20%-40%
Ultraviolet Blocking tested: 80%
Testing Certification: CE
Windows can roll down.
Easily installs with no hooks
Doors can open and close 
The views is not obstructed, see-through mesh
Sizing information:
2Pcs of Car Window sun shades.

Car Sizes: 100cm x 52cm
SUV/Truck sizes: 150cm x 50cm